Even though, I am not a writer, Willard Morgan's interview left me with writer's block.
There are so many things I want to talk about Willard Morgan, but I cannot find the right words, meeting him and his studio opens your soul to another dimension, because not only Willard is a personage, but his house also has life by itself.
He is skinny, with crazy hair, happy and full of life. Willard lives in his "Mansion" (yes, his studio has a name); he has art for breakfast, lunch and dinner, every corner of his studio has his sparkle, is like if he leaves fairy dust all over the places he is around.
He welcomed me with a big smile, he is funny, easy going and a gentleman, we were surrounded by talented people that was in his studio, rehearsing for
their performances.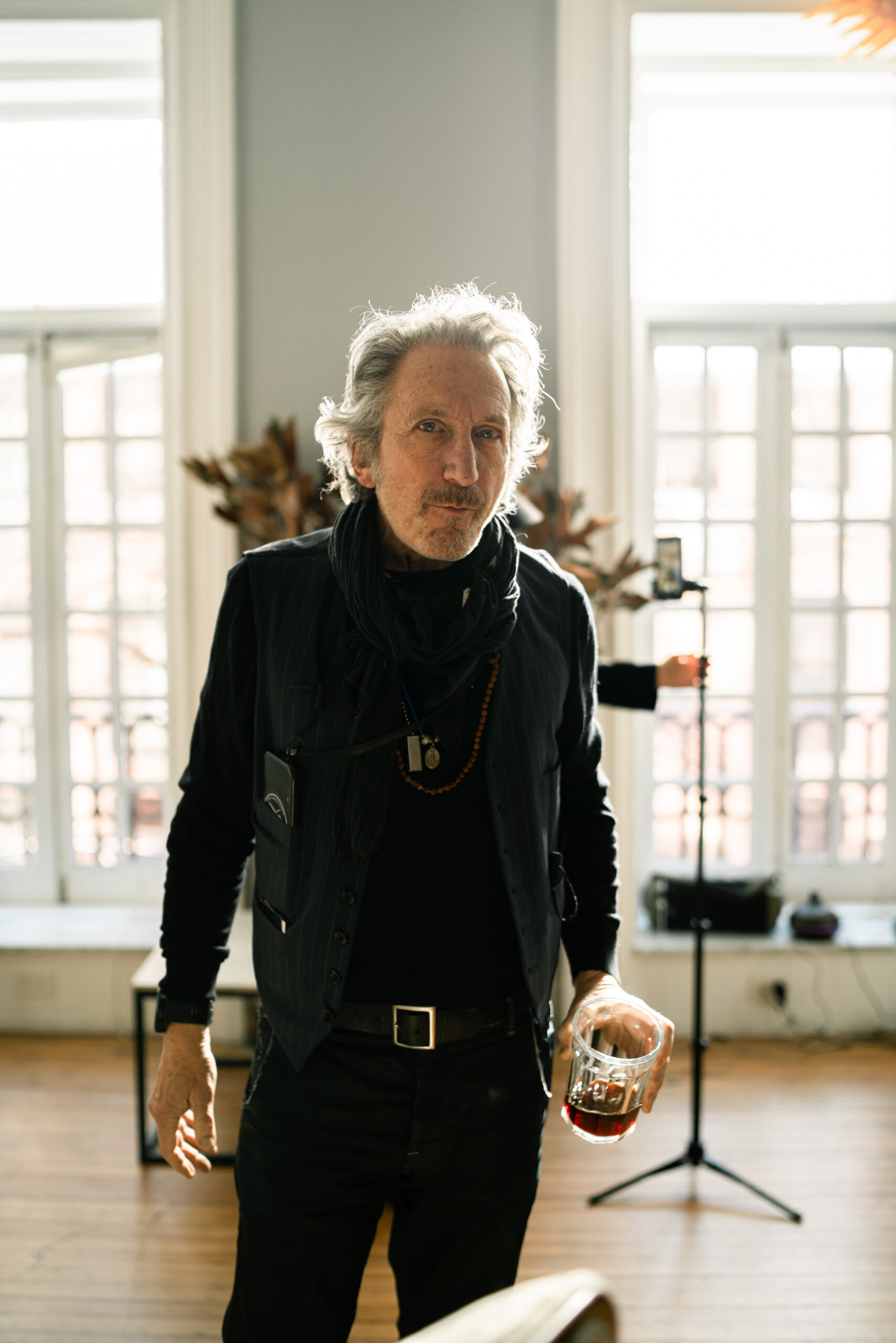 Willard Morgan
The Mansion
His "mansion" reminded me of Andy Warhol's factory; every little corner is ready to use in whatever kind of art you need, is like living in a theater.
The first floor of the Mansion is a big venue that welcomes all kind of art performers, from music to runways and art exhibits, it has beautiful natural light from a big skylight it is called "The Atrium"
A big piano was there among some other musical instruments, a rack with emerging designers clothing, speakers, microphones and anything you need to perform. And then we went upstairs, in the left side of the Mansion, facing the street; there is a room (that we used for the interview) full of scenography items.
We had fun doing the interview, every word he said made me want to ask more and know more about him (you can see the interview in our Instagram account). So, I don't know whose idea was but they (Willard and Pedro Martin, one of the photographers) decided to show me the whole Mansion! I was like: "What? Well Yes!
We went upstairs, where we found a cool dark room filled with scenography and art, two steps up and you find a little veranda where the musicians or Dj's accommodate for the parties, then a big glass door that takes you to a terrace, now imagine all he surrounding buildings agreeing in covering their walls in climbing plants. It is the perfect movie scene placed in NYC.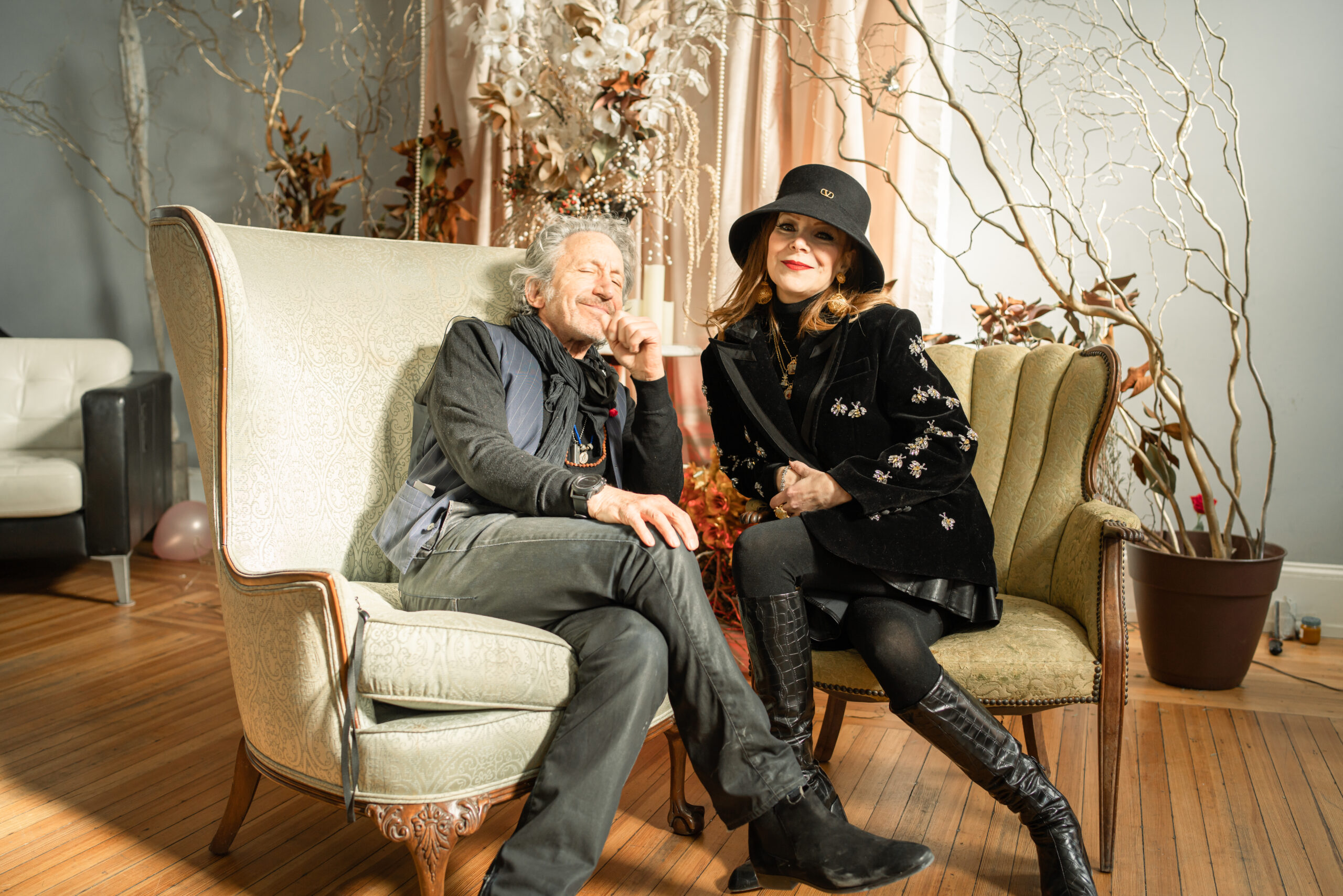 Willard Morgan and Martha Phillips during the interview in The Mansion.
Home
The third floor is Willards's apartment, to arrive there you must go up on a spiral staircase, his habitat is also a magic area, filled with his essence. I did not take pictures of his apartment to respect his privacy, but I can tell you it was as amazing as the rest of the "Mansion". But wait, that's not all! He has a basement! and that basement just blew my mind.
Completely unexpected, literally all kind of rooms for either record a video, a song, a play, an art exhibit, I mean, really cool!
The Mansion is a place for art where the artist must live, so let it be it.   It was a grateful experience! Willard is a complete artist, he sings, acts, he is a producer, filmmaker, performer artist, screenwriter, movie director, entertainer, you name it, and he is! But above all, you can feel the magic of his soul, a generous man that helps other artists to arrive to the top.
Willard is the kind of person that you never forget; his sparkling personality is bigger than New York. If you are in New York look for an event at Ideal Glass Studios, there is always something going on there. And you may be in luck and find Willard.
Follow him on his social media @willardmorgan @idealglass_studios
Photos: Juan Pablo Viades and Pedro Martin
Follow me! @girldumonde
About Post Author