The hit collaboration returns for a second season
It was 2021's surprise link-up: a collaboration between Longchamp and Emotionally Unavailable, the contemporary LA fashion brand founded by friends and kindred creative spirits Edison Chen and Kybum Lee. And now the partnership is back, with both sides agreeing it was so much fun that they couldn't resist a second season.
While the first tie-up was inspired by the mind-set of the champion boxer, the second collaboration draws on the patchwork theme of the latest EU ready-to-wear collection. The result is a series of pieces – bags, accessories and ready-to-wear – with a subtle vintage vibe, balanced by a thoroughly modern design.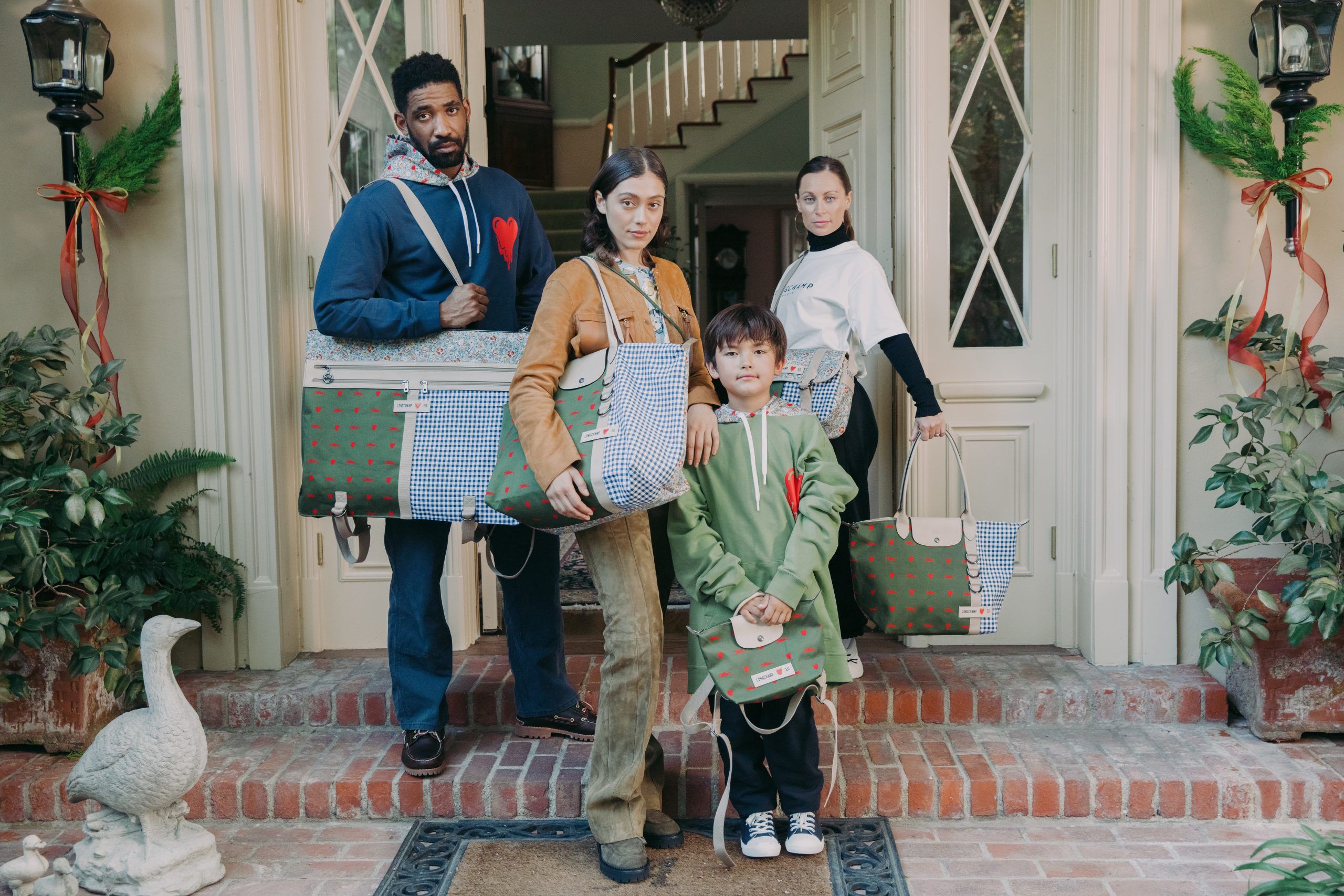 Kybum Lee explains: "During the pandemic, we were all missing travel, so I started thinking about how we used to travel, and how families would go away together for the holidays. I wanted us to make something that went beyond the product and actually told a story, something that all ages could enjoy."
At the heart of the new collection are two pieces from the Longchamp archives: a garment bag and a messenger bag – the latter the first article designed by Creative Director Sophie Delafontaine when she started at Longchamp. Both have been updated for modern lifestyles, with the garment bag in particular reworked by EU in the spirit of a contemporary backpack with, for example, a dedicated compartment for a tablet or laptop. The two pieces are crafted from a patchwork of the collaboration's signature textiles: a sweetly nostalgic floral print, a blue and white gingham, and a khaki canvas with the Longchamp racehorse and EU bleeding heart logos in red.
Sophie Delafontaine takes up the story: "It was quite a surprise when EU said they wanted to redesign these archive pieces, but when the first samples arrived in the office, everyone came in to take a look and the reaction was absolutely amazing. As with the first collaboration, you can really see both EU and Longchamp in these designs, which for me is the most important thing."
Other key pieces are the classic Le Pliage® shoulder bag and travel bag in the same patchwork of textiles, while a backpack comes in either the floral print or the khaki canvas. All feature the Longchamp ♥ EU and "Been a CHAMP a LONG Time" labels created for the first collaboration. The new collection also includes two logo T-shirts, one white, one floral, and two hoodies, in navy or khaki, with the floral print on the hood and oversized EU and Longchamp signatures on the front and back.
Fashion film
The new collaboration comes with a film inspired by the cult movie Home Alone, which Kybum Lee was watching during lockdown. Its delightfully light-OCTOBER 2021
About Post Author